Epiphany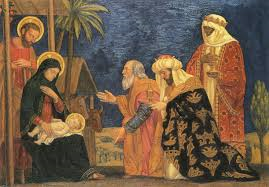 Introduction to Epiphany
The sixth of January is the feast of the Epiphany. Originally it was the one Christian feast of the "shining forth" of God to the world in the human form of Jesus of Nazareth. It included the celebration of Christ's birth, the adoration of the Wisemen, and all of the childhood events of Christ such as his circumcision and presentation to the temple as well as his baptism by John in the Jordan. There seems to be little doubt that this feast, like Easter and Pentecost, was understood as the fulfillment of a previous Jewish festival, in this case the Feast of Lights.
Epiphany means shining forth or manifestation. The feast is often called Theophany, which means the shining forth and manifestation of God. The emphasis in the present day celebration is on the appearance of Jesus as the human Messiah of Israel and the divine Son of God, One of the Holy Trinity with the Father and the Holy Spirit.
Thus, in the baptism by John in the Jordan, Jesus identifies himself with sinners as the "Lamb of God who takes away the sin of the world" (Jn 1:29), the "Beloved" of the Father whose messianic task it is to redeem men from their sins (Lk 3:21, Mk 1:35). And he is revealed as well as One of the Divine Trinity, testified to by the voice of the Father, and by the Spirit in the form of a dove. This is the central epiphany glorified in the main hymns of the feast:
How First Lutheran Celebrates the Feast of Epiphany
First Lutheran over the years has created a tradition of celebrating this feast day by using a worshp service that was created by the Lutheran Seminary in Makumira Tanzania called "Listen!! God is Calling!" During this service we are accompained by pianinst and several drummers to bring about a African feel to the event. The "Wisemen" bring the gifts to baby Jesus and communion is celebrated as well. After the service we journey outside for the "burning of the greens" and hot choclate.
The Burning of the Greens Tradition